Garden State Chimney

: A Licensed & Insured Chimney Maintenance Company You Can Trust in North Haledon, NJ
Welcome to
North Haledon, NJ
– a charming town that caters to all members of the family, including kids with two legs and our beloved four-legged fur babies. Nestled in Passaic County, this vibrant community offers many exciting activities. Whether you're looking for outdoor adventures, family-friendly events, or pet-friendly spots, North Haledon has something for everyone.
For the little ones eager to unleash their energy, you can find numerous parks and playgrounds, like Yahn's Pond Playground, for the kids to run, jump, and play to their heart's content. If you have furry companions tagging along, you will be thrilled to know that North Haledon Dog Park is a haven for dog socialization, exercise, and making new friends.
Another nearby hot spot for kids and dogs alike is Paterson Great Falls National Historical Park. The breathtaking beauty of the cascading waterfalls and scenic surroundings creates an ideal setting for an unforgettable family adventure on those perfect weather days.
On your way home, don't forget to grab a pup cup and some ice cream, then wrap up the day's fun-filled activities by relaxing near a cozy, warm fireplace. There's no better company than Garden State Chimney to ensure the safety and peace of mind when it comes to your fireplace. Call or book with us online today.
We needed a chimney sweep and also wanted someone to inspect our fireplace. We called Garden State Chimney and spoke to the owner Dan. Dan and his team were very knowledgeable and wore masks inside of our house. The cleaning took about twenty minutes, the inspection was done with a camera which was pretty cool to watch. They were able to seal my liner rather than replacing it. I highly recommend them.
-David S.
★★★★★
Trust Us With Your Chimney Services in North Haledon
Thanks to our dedicated team of skilled professionals, we can offer a long list of comprehensive chimney services to our service area, including inspections, cleanings, and regular maintenance and repairs to keep your fireplace in the best condition possible. Our ability to ensure proper functioning year-round reduces the risk of potential hazards like chimney fires and carbon monoxide leaks.
So give Garden State Chimney a call to schedule your next appointment at 973-519-0802, and get back to enjoying the perfect ending to an adventure-filled day, complete with a safe and cozy fireplace.
What services do we offer?
We are a full service chimney company, so there really isn't a job we can't handle. Some of the services we provide on a daily basis in North Haledon and the surrounding areas include:
Chimney inspections
Chimney sweeps
Chimney and fireplace repairs
Leaky chimney repairs
Chimney relining
HeatShield
Fireplace and insert installation

Gas logs
Gas inserts
Gas fireplace

Gas fireplace service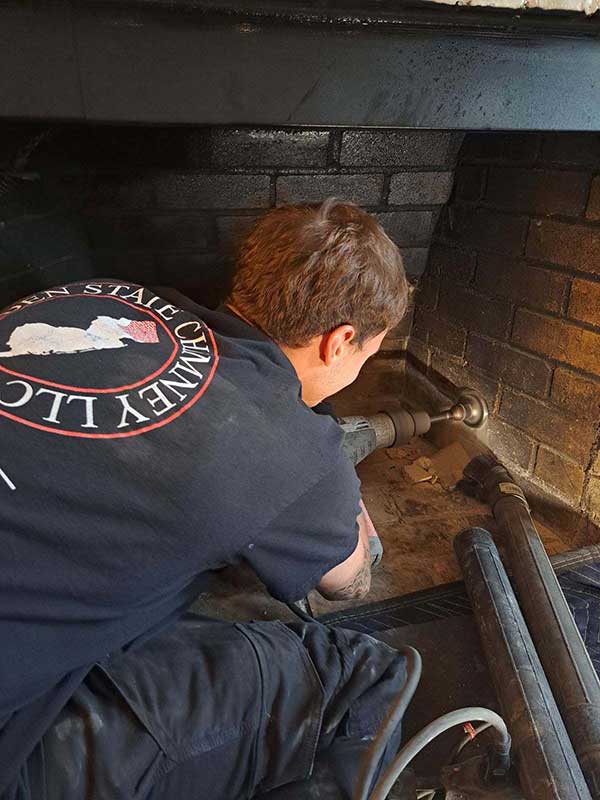 Garden State Chimney Is a Licensed, Certified & Insured Chimney Company
You'd be surprised at how many chimney companies out there don't hold the proper licensing and insurance. These same companies are usually the ones that will come in with the most affordable quote. …then, either take your money before finishing the job, or do such a bad job that you are forced to find someone else to complete it to your satisfaction. We hear these stories all the time.
So what can homeowners check for to avoid hiring someone that isn't qualified? Here are a few things we suggest:
Positive reviews: One of the best ways to find out about a company's reputation is to listen to those that have worked with the company before. Have you asked your neighbors for references? Or taken a peek at reviews on Google or the company's Facebook page? While you're looking at the reviews, also check out how the company responds to negative feedback. Do they respond professionally and offer resolutions to help make it right?
Industry certifications: It is extremely concerning that just about anybody can get up on the roof and start working on your chimney if they wanted to – no qualifications required. That's why we recommend you look for certifications from trusted organizations like the Chimney Safety Institute of America (CSIA) to make sure the chimney technician has undergone proper training and has more than just basic knowledge about your fireplace system. Most companies will proudly display this information on their website or be able to answer that over the phone before you schedule an appointment.
Licensing and insurance: All home service companies should have the proper licensing and insurance to operate in their state. No homeowner wants to be held responsible for an injury that occurs on their property but isn't their fault. Always make sure you and the company stay protected in the off chance that accidents happen.
Comprehensive list of services: Some companies only offer basic services like chimney sweeps and chimney inspections. But if they are only capable of sweeps and inspections, what happens if during either of those services, you find out you're suddenly in need of a chimney repair? You have to go and search for another reputable company again to now perform those repair services. Skip the hassle, and find a company that offers a wide range of services to meet all of your chimney and fireplace needs right from the start – like Garden State Chimney
A licensed, certified, and insured chimney company not only meets the necessary requirements and regulations set by local authorities… You can also trust that their knowledge and expertise will ensure the safety, efficiency, and reliability of your fireplace system. Don't risk it with just anyone. Contact Garden State Chimney today at 973-519-0802 or by reaching out to us online.
Dan is amazing!! He was able to fit me into his schedule at the last minute and did an amazing job! I would highly recommend him and will definitely share his contact with friends and family! Thanks a million Dan.
-Cindy R.
★★★★★
Can I Perform Chimney Maintenance Myself?
We understand how stressful and overwhelming it can be to find a company you can trust. It might be making you think, "Well, I'll just do it myself then." But unless you have a keen eye, combined with extensive knowledge on chimneys, it's always better to leave thorough chimney inspections and sweeps to a certified professional – not just for safety reasons, but because there are so many components of the fireplace you probably don't know enough about.
Here's what we check during our comprehensive chimney inspections:
Chimney Cap: A chimney cap sits at the very top of the flue. Even though chimney caps weren't always considered a necessary component, they serve an important role in helping protect the chimney from rain, debris, and animals. Because of its location, it is not uncommon for chimney caps to be damaged by nearby trees or severe weather conditions, so we always want to check that it remains intact and free of any obstructions.
Chimney Crown: If you have a masonry chimney, right below the top of the flue will be a flat, concrete slab that we call the chimney crown. When working well, it helps send water out and away, but if cracked, it will allow rain to wreak havoc on the inside of your chimney. To prevent any kind of water damage from occurring, and to protect the structural integrity of your chimney, we always want to make sure the chimney crown receives necessary repairs in a timely manner.
Flue Liner: The flue liner protects the interior chimney walls from heat and combustible byproducts. Because the flue liner is exposed to high temperatures for extended periods of time, it is common for older flue liners to begin to crack, deteriorate, or even have significant creosote buildup.
Chimney Damper: The chimney damper not only controls the airflow when there is a fire burning, it also prevents drafts when the fireplace isn't in use. A damper that doesn't open and close properly could be a sign that it has rusted from exposure to water. Depending on how far up in the chimney the damper may be, it can be hard to inspect without special cameras, like the ones we use.
Firebox: This is the area where the fire burns. It is important to regularly clear this area of ash and debris to enhance the safety and performance of the fireplace. We want to make sure that the firebox walls don't have any cracks in them and that there are no signs of creosote buildup.
Smoke Chamber: The smoke chamber funnels smoke from the firebox into the flue so it can be expelled out of the chimney. We want to make sure there isn't any creosote buildup that would interfere with allowing smoke a clear passage out of your home. We'll also ensure your smoke chamber is parged smooth – not corbeled or stair-stepped.
Brick & Mortar: Bricks naturally absorb some water. However, too much water intrusion can lead to expensive water damage repair in the future. We will inspect the brick and mortar for cracks and signs of water damage. There are a few different services, like tuckpointing and repointing, that can help repair the damage in the masonry and restore the structural integrity of the chimney.
Chimney Flashing: This is the metal seal that prevents water from seeping into the joints between the chimney and the roof. We want to make sure that the flashing isn't pulling away from the chimney and allowing water to enter the roof joint.
Chimney Chase Cover: Similar to a chimney crown, the chimney chase cover is a metal cover that sits on the very top of the chimney to protect it from water damage, mostly used in prefabricated systems. Some of the older chimney chase covers were commonly made of galvanized steel, which is susceptible to rust, which is why we recommend investing in a stainless steel model.
In addition to overviewing the above components of your chimney, we'll also…
Check for creosote buildup. Creosote buildup is a leading cause of chimney fires. Making sure your chimney is cleaned by a certified chimney sweep will reduce your risk and ensure safer operation of your fireplace.
Complete a visual and camera inspection. Our advanced camera technology that rotates 360 degrees allows us to inspect every nook and cranny of the chimney interior – meaning nothing gets past us.
Make repair recommendations. Based on our inspection, and our extensive experience with chimney repairs, we are able to provide recommendations for necessary maintenance to help keep your fireplace system in the best shape possible.
Trust Garden State for Service You Can Trust
Maintaining your chimney isn't just about ensuring its longevity, but also ensuring the safety, comfort, and value of your home. From the chimney cap to the firebox, every component plays a vital role in the proper functioning of your fireplace. You can trust Garden State Chimney to provide thorough inspections, meticulous cleanings, and expert repairs every time you need us.
Give us a call today at 973-519-0802 to find out why the communities of North Haledon, Hawthorne, Paterson, Glen Rock, and countless areas surrounding prefer to work with Garden State Chimney. You can also reach out to us online. We look forward to speaking with you soon.